New England Patriots Issue Statement After Releasing Antonio Brown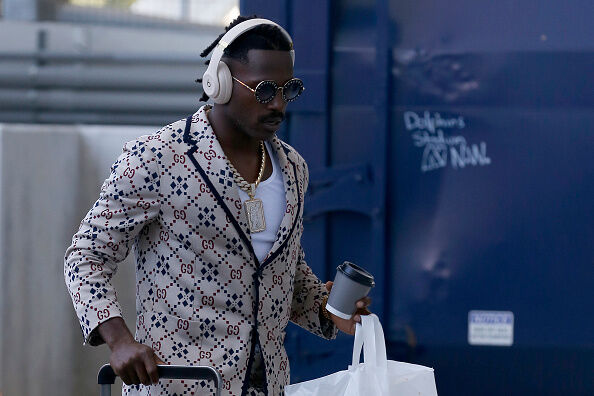 New England Patriots:

"The New England Patriots are releasing Antonio Brown. We appreciate the hard work of many people over the past 11 days, but we feel that it is best to move in a different direction at this time."
The New England Patriots finally parted ways with embattled wide receiver Antonio Brown after a run of mischievous public relations nightmares began to saturate the news cycles on a daily basis.
Brown signed a one-year deal with the defending Super Bowl champions on September 7th that would have been worth up to $15 million, with a $9 million signing bonus. A couple days later, the team even added a second-year option to Brown's deal, that would have netted the four-time All-Pro another $20 million if picked up by the team.
Brown looked to be putting his Oakland Raiders nightmare behind him, with Tom Brady even colorfully offering AB a room to stay in at his home if he needed somewhere to stay in the New England area.
Things begun to go downhill just days later.
On September 10th Brown was accused of raping his former trainer, who is suing Brown in the state of Florida.
A week later and another woman had come forward alleging sexual misconduct from Brown.
Brown steered clear of the abominations to suit up in New England's Week 2 blowout victory over the Miami Dolphins, as he even caught four passes for 56 yards, including a 20-yard touchdown strike from Tom Brady.
On Tuesday, Sports Illustrated writer and reporter Robert Klemko had penned an exposé about Brown that detailed more than a dozen individuals from Brown's past including some former clients, contracted employees, coaches, and trainers alike, who had either been lied to by Brown, ripped off, degraded, or even swindled altogether.
Throughout the week, Klemko kept in contact with the second woman who had made the sexual misconduct against Brown, even releasing threatening messages Brown had sent the woman.
Earlier on Friday, Patriots head coach Bill Belichick had angrily stormed out of a press conference after being asked seven consecutive questions about Brown's Week 3 status versus the Jets this Sunday.
Brown's nightmare with New England followed his utterly embarrassing month with the now-humiliated Oakland Raiders.
Brown had missed extended time because of a cryotherapy 'accident' in which he suffered frostbite on his feet, then he missed practices because of a helmet grievance, then nearly came to blows with general manager Mike Mayock, then hired a public relations firm to brainstorm ways to self-sabotage his way off the team.
Brown is 31 years old and has accumulated 11,263 receiving yards (34th all time) and 75 touchdowns for his career.

FOX Sports Radio
Want to know more about FOX Sports Radio? Get their official bio, social pages & articles on FOX Sports Radio!