Clay Travis Says the Marcus Mariota Era is Over in Tennessee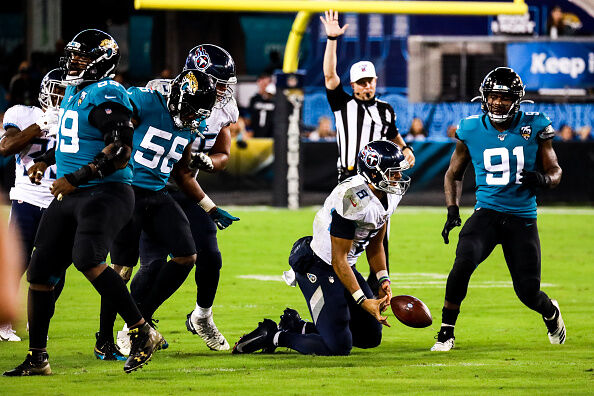 Clay Travis:

"The Jaguars lobotomized the Titans on Thursday night, there's no other way to describe it… If you can't beat Jacoby Brissett and Gardner Minshew in the AFC South then you need to blow up your entire strategy as an organization. Andrew Luck retires and now you don't have to play against Nick Foles??… You couldn't draw up a better duo to play against in your division in back-to-back games. This is a 4-12 football team. The Marcus Mariota era is over, you gotta just turn the page. The Titans have failed so hard in terms of building anything around him that you have to blow up everything your franchise has done. The team stinks, the offensive line is garbage, and the quarterback can't get rid of the ball."

(Full Audio at Bottom of Page)
Listen to Nashville native, and diehard Tennessee Titans fan Clay Travis breakdown Tennessee's humiliating loss on Thursday Night Football, that saw the team get stomped out by their division rivals in Jacksonville. 20-7.
Quarterback Marcus Mariota was sacked nine times and didn't throw a touchdown pass in route to an ugly 28.1 QBR game.
Mariota has been sacked a total of 17 times this season, which is the most sacks in the NFL through 3 games since 2002, in David Carr's rookie year and in the maiden season for the Houston Texans franchise.
Clay says it's not only time to blow up the entire Titans roster, but it's time to give up on Mariota as their franchise quarterback of the future.
Mariota is in his fifth year and has had a very inconsistent career to say the least. Mariota is 28-30 for his career in four plus seasons and has only thrown 73 TDs in 59 games.
He does have a heroic comeback playoff road win in Arrowhead Stadium where he once caught his own deflected pass and memorably ran it in for a touchdown, but he also had a full season in 2017 in which he threw more interceptions (15) than touchdown (13).
Check out the audio below as Clay says it's time for heads to roll in Tennessee.

FOX Sports Radio
Want to know more about FOX Sports Radio? Get their official bio, social pages & articles on FOX Sports Radio!